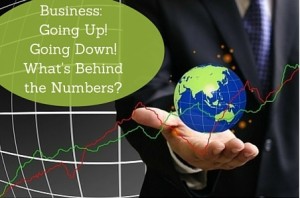 One report says business start-ups have never looked better. Another survey talks about persistent decline. With the business outlook in churn, what do the numbers mean to you?
While you focus on landing that client, or pivoting your marketing message, the economy is moving fast. Getting to market with a good plan, new ideas, and great products makes for a winner, but it is also important to understand your business ecosystem—is it healthy?
New reports: Do statistics lie?
Numbers are important to any business owner. Your bottom line, your profit margin, your price point—every number carries weight. In terms of business climate, let's take a look at some overall reports:
The Brookings Institution: This organization recently released a study on business dynamism, the churn that occurs when companies start-up, succeed, grow, or fail. Its findings include:
Statistically, a new business starts each minute, while another fails every 80 seconds.
Business dynamism, the growth and decline of companies in the private sector, has fallen for years.
Reduced dynamism results in slower economic growth.
New regional and national measures are needed to fuel small business growth.
Kauffman Index: According to a study from the Kauffman Foundation, 2014 saw the strongest entrepreneurial growth since 2010. Some interesting entrepreneurial points include:
Most new small business owners are men, at approximately 63 percent. According to the report, the rate of new female entrepreneurs is near a two-decade low.
Called opportunity entrepreneurs, owners who are not unemployed—and starting a business by choice—represent the largest number of new small business owners, at more than 79 percent.
Up from just over 13 percent in 1997, immigrant entrepreneurs now account for more than 28 percent of new small business owners.
Notes Kauffman study author Arnobio Morelix, "When broad-based entrepreneurial opportunity improves at this pace, it's an indication that the labor market is slowly recovering."
Global Entrepreneurship Monitor (GEM): GEM is a joint collaboration involving more than 69 countries and conducts research on entrepreneurship around the world. Some GEM data on American entrepreneurs includes:
In the United States, there are approximately 24 million entrepreneurs, representing about 14 percent of the population. This represents a high-water mark for the 16-year GEM study.
More than six percent of start-ups currently occur within organizations—meaning entrepreneurial efforts are being supported through, and by, larger corporate environments.
Of the surveyed countries, the United States reports the highest number of entrepreneurs between ages 55 and 64 years of age.
Twenty-one percent of entrepreneurs expect to create 20, or more, job positions in the next five years.
Why do numbers matter?
With absolute certainty, I can say these reports agree on one point—it remains an unsteady business environment. The confluence of economic indicators, new jobs, oil prices, and global politics play an important role in the local business environment where you operate your company.
I work with entrepreneurs to maximize the profit they earn—or will earn when starting up a new business. In the initial one to three years of your business lifecycle, the seeds of success and failure are sown. When I work with business owners, we look at expansion—or contraction—when needed, or replacement of outmoded operations with lower cost marketing automation to reduce labor and time expenses.
To gauge risk and support growth, it is important to keep an eye on the economic climate for a couple of reasons:
Knowing the cost of goods is important. The Producer Price Index (PPI) looks at the cost of goods and materials for manufacturers and producers. When the cost of materials goes up—you need some savvy to understand whether you should raise your prices, or hold on. Keeping an eye on the overall cost of materials helps you plan and price.
In August, the overall employment picture did not change much, with some states reporting job loss—others reporting job gain. Regional and national unemployment trends are important to entrepreneurs. National rates give you a birds' eye view of a larger cycle. Regional rates give raw information to plan for temporary downturn, or uptick in customer spending.
In any particular season, it is good to know about consumer confidence. By some measures, 45 percent of reporting households noted a better financial picture in August of this year. When consumer confidence is up, your clients and customers may spend more. At present, recovery from the Great Recession continues, with bumps from volatility in the stock market, and oil prices.
What's in a number? Plenty. When you want to understand your bottom line—and boost your income—call me at 585-633-7563.
Yours in profit,
Bob Britton