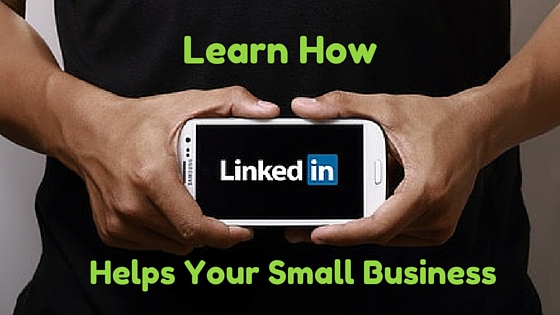 Focused social media marketing is important. Taking a run at Facebook, Twitter, Pinterest, and other channels may be appropriate for your company—but maybe not. For many small businesses, and their owners, LinkedIn is a key networking and marketing tool.
My job is making millionaires out of small business owners. I create and use strong business plans, marketing tech, and experience to help struggling entrepreneurs make it to that magic million. Part of the work of raising your income is raising your profile.
LinkedIn can help.
Seven ways for entrepreneurs to use LinkedIn
At the moment, LinkedIn is the prime business networking social media tool. Launched in 2003, the company reported earlier this year that it has 365 million users in over 200 countries. There are a number of ways you can use, and contribute, to LinkedIn to cultivate leads, develop relationships, and learn from others.
Consider these tips:
Your profile: LinkedIn is not just for job hunters anymore. Besides growing your professional network, LinkedIn is a wonderland of individuals, companies, and groups to generate business and referrals. It starts with your profile. Before you create your business profile, know your target audience. Carefully craft your profile to speak to your audience—and create authority.
The SEO part: Blend relevant keywords, terms, and phrases throughout your profile. Consider titles, headlines, and include compelling content. Write and post blogs, share reports, post presentations, projects, video, and other links. Don't forget the profile picture—you will get more views, connections, and results.
Network: Build your network over time. LinkedIn is not Facebook, so think about connections and the community you want to build. Give thought to invitations beyond seeking new clients. If you connect with a person, and then immediately solicit business, chances are good you will lose the connection. The branching network of your LinkedIn connections keeps you in the mix, and sometimes creates serendipitous opportunity.
Build influence: Just as you would ask a client to refer you to friends, ask clients and good friends on LinkedIn to write recommendations, and endorse your skills and services. LinkedIn is a reputation economy, the more you interact, write blogs, share content, and reveal yourself as a subject matter expert and all-around great networking associate—the more you showcase your personal and professional brand.
Go for Groups: LinkedIn Groups are a great way to network with colleagues, build your subject matter authority, and stay current on news relevant to your brand. Aim for groups in your industry—or that relate to professional support for entrepreneurs. Get good advice and ideas, and share content when it is appropriate and adds value.
Be aware that blog posts considered to be spam by others could lead to suspension of your ability to post to groups. LinkedIn Side Wide Automatic Monitoring (SWAM) can be triggered by a group owner if they believe your posts do not align with the purpose of the group. SWAM is frustrating and leaves you unable to post unmoderated content in a LinkedIn group—with no system of redress.
Use Company pages: Create a Company page profile for your business, boost connections, and build and maintain your brand across LinkedIn networks. Promote LinkedIn to employees throughout your business, and extend your reach each time an update is posted. Ask employees to guest blog. Use your Company page to preview and introduce products and services, and offer helpful information. Cross link with your website to drive traffic, create authority, and develop leads. On your Company page, blog, or website, use narrative and success stories to build engagement and illustrate value.
Mind SERPs: Search engines look favorably at LinkedIn Company pages. Be sure to optimize the Company page, your profile, blog posts, and other content on LinkedIn. LinkedIn offers analytics to your page administrator to help you gauge and understand activity, as well as keep your content marketing strategy fresh. Via groups, and contacts, LinkedIn helps you keep an eye on your competition and trends across your industry.
Once you are set up with LinkedIn tools—use them. While it takes time to build and maintain a small business presence on LinkedIn, it is a relevant channel that moves you further into your sales, and industry stream. You may not have the time, or expertise, to create a LinkedIn presence, so consider using a consultant to get you up and running—and turn your energy toward running your business and engaging the future.
Do you want to earn more money and worry less about your business? I can help. Call me at 585-633-7563.
Yours in profit,
Bob Britton