Marketing is all about generating solid client leads and conversions. We're in this to build business, right? Sometimes marketing is also about knowing when to let a client go.
If you are a small business owner, you probably have—or have had—clients that just did not work out. For their reason, or yours, it was not a good relationship. My business is helping entrepreneurs craft a business that makes them real money.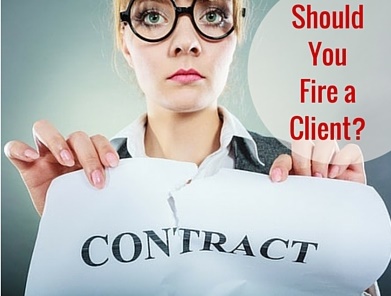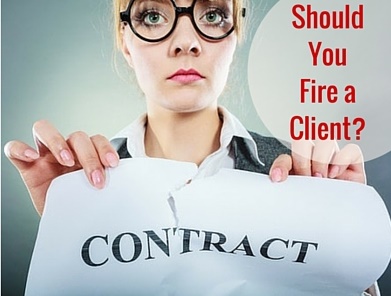 Good reasons to let a client go
Client issues are different depending on your position in the business lifecycle. If you are a start-up, stretching services, straining your finances, and delivering the impossible may be your idea of landing a client. Established entrepreneurs may have clients on board that are not returning profit, compared to time needed to maintain their account. How do you know when to cut a client loose?
I have been where you are. Struggling with several businesses, it took me a lot of effort until I hit on a business strategy that worked—no matter what business I took on.
Today, I help clients with strategies for value, pricing, marketing, and production to create strong—profit-producing—small business enterprises. An important part of running your business is learning to recognize the clients that support your bottom-line. Consider these tips for identifying problem issues with clients—or potential clients:
Not your expertise: Tempting though it is, avoid taking on clients who are asking for services outside your defined area of experience. If it is a field you are working into, or have an interest in exploring, by all means, take the challenge. But—small business owners anxious to succeed may take on projects or requests they are not set up to address, and end up at a financial loss for the time spent. When a client wants a product or service you do not provide, offer a referral or consider partner relationships with other small business owners who provide what your client needs.
The money is not there: I have said this before—do not get into pricing wars with other business owners. You cannot win if the game is to undercut the competition. Unless you have the edge on a high volume business, the best position for an entrepreneur is as a premium player. Clients who haggle over every bill, are late paying, or always looking for a deal, are not the kind of clients who support your long-term growth and financial success. If you are an established business owner reconsidering your price point, take the time to speak with legacy clients. Let them know you are repositioning your services and offering a greater value proposition. Show them how they will get better—and more—service, even as they pay a higher price. If established clients are unhappy, let them make the choice to move on, but do not make special pricing deals to maintain unprofitable accounts.
Bad business: Do your business on the sunny side of the street. Shady clients looking to make you a deal, or asking you to skirt a regulatory situation, are nothing but trouble. Turning down a sizeable account or a big payout may be tough—but it is worth it. In a wired world, reputation management is essential to your brand. Make sure you know what is being said about you—or about others you might be considering for a business relationship.
Just not worth the trouble: We all have them—clients who pay on time, but cause you to involuntarily flinch when you hear their name. They may be argumentative, take a lot of time, always ask for a special deal—just something that makes doing business with them difficult. If it is your bread and butter client—you are stuck for the time being. When that is the case, it is time to hit your marketing strategy hard, and start looking for clients that offer a better reciprocal relationship.
Is this you? A start-up business owner may ask you to take lower fees in exchange for stock options. Unless it was Google or Facebook—most times, these arrangements do not pan out. Or, you offer services involving consulting and guidance that your client never takes—often to their detriment. These examples point to a client that is just not a good fit.
Many small business owners recognize these clients, but fear turning them away, or letting them go, for financial reasons. Give yourself permission to choose the clients who really need your services, and who support your steady success—like you support theirs.
When you need to develop clients who appreciate what you have to offer—you need a marketing plan that delivers. Call me at 585-633-7563 to kick-start the right kind of client development for your company.
Yours in profit,
Bob Britton