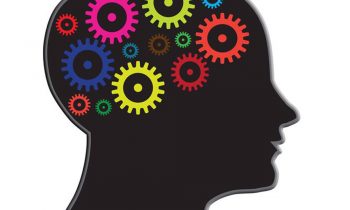 Years ago, I learned something from my mentor that
has proven to be more valuable than most other things.
I've used this specific thought process to 'fix' many
businesses and get the cash flowing again rapidly.
Here's this nugget of wisdom in it's simplest form:
The amount of money you make is in direct proportion
to the number of offers you make.
That's it, simple, yet profound.
In every instance, in every situation when I start working
with a client that isn't hitting their revenue goals, all I
need to do is evaluate the number of 'offers' they are
making on a daily, weekly, monthly basis and right there
I find the problem.
So if you're finding that you're not hitting the revenue
numbers you'd like, ask yourself (and be brutally honest)
'how many times a day am I making an offer to someone?'
Are you on the phone asking people for their business?
Are you running webinars to promote and sell your services?
Are you doing live presentations?
Are you emailing people asking for their business?
What are you doing to make an offer?
See, when you make an offer there's only 2 things that can
happen, 2 and ONLY 2.
1. They can say YES, I'll take it.
2. They can say No.
But even the 'No' will often times turn into a 'yes' later on
IF YOU'VE MADE THE OFFER IN THE FIRST PLACE!
Of course NONE of this can happen if you don't make the
offer.
So today's lesson: Make a SHITLOAD of offers, and you'll
make a ton of money.
Being a man that practices what he preaches, I've got an
offer for you. Right now I'm offering to do no charge
strategy sessions for REAL business owners who are doing
more than 100k a year in sales and want to get to the 100k
a month level and beyond.
If you think you're ready for some no nonsense, clear thinking
go ahead and sign up for a strategy session with me by clicking this link.
I look forward to talking with you.
Yours in profit,
– Bob
P.S. Clear thinking is responsible for more business success than
everything else combined. If you've become clouded or 'stuck' in
your business, then a strategy session with me might be the
exact thing you need to get 'unstuck' and moving again. Click here to schedule yours now.
For a million reasons, a website is a good idea. It gives your business, your brand, and your marketing a starting point. How does yours rank?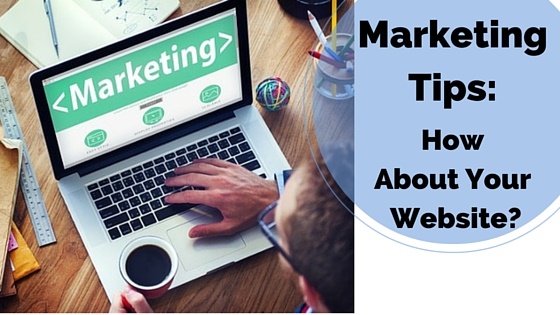 A website is more than a couple of pages with pictures. Unless your business is website development (and in most cases, you still need a LOT of help understanding what makes a website CONVERT visitors into buyers), getting help with your website is a good idea. My business is helping entrepreneurs structure their business and align marketing and business practices to make good money. I have not yet met a client who was not interested in making better money—and a good website is a smart place to start.
You have a website—now what?
The chances are good you already have a website. An employee, consultant, or maybe even a friend helped you get it together. Until you have time to optimize the site—it will do. So what does "optimize" mean?
Optimizing a website means different things to different people. Basically, it means making the most of your digital real estate. That is everything from the look and feel of your site, to the tools you use to analyze visits and conversions. Here are some steps to re-approaching your website as a marketing tool, and a placeholder in the digital world:
What is your goal? A website may be largest part of your digital marketing campaign. Other channels include social media like Facebook, Twitter, Instagram, and Pinterest. While social media channels are a great way to interact with leads, amplify your brand, and drive traffic toward your products, your website is your institutional online presence. As you rethink your website—and your marketing—consider the overall purpose of your website, and how you want to allocate resources to keep your website, and your social media channels, fresh and up to date.
Who is your customer? Your client or customer profile is essential to effective website design. How can you create and populate a website with interesting information if you cannot identify your customer? I work closely with small business owners to identify, and target—through marketing automation, online presence, and service—clients willing to pay more, for more value. Be sure you know who you are pitching at—it makes a lot of difference in your bottom line, and your profit.
High quality content: Is your website one big advertisement? Splashy pictures, slogans, and product or services? Google places a premium on sites with a little more to offer—like free white papers, tip sheets, products, and other authoritative content that help users find the answers they need. A blog is a super tool for demonstrating knowledge of your business, and your product. In addition to offering free information on questions specific to your service or business, a blog is a valuable tool that establishes and demonstrates that you know what you are talking about, and can provide high value to your client, or customer. High quality content, through blogs, articles, video, and other freebies improves your profile, and oftentimes, your search engine rankings.
Be compelling: Do you offer discounts, or periodic flash sales online? Have you solicited and posted recent, heartfelt testimonials about your service or product? Is there anything on your site—like passion for a charitable cause that sets your business—and you—apart as exceptional? Do you offer online chat during business hours? Few things gain respect more quickly than rapid, and reliable, customer service, whether in person, on the phone, or online. Is there any way for users to interact with your site—such as by commenting on a blog post, or offering photographs of their use of your product? Small moves to create personal engagement lead to big dividends.
Social Media: Do your research, use the right channels—and keep it fresh.
Whether it is website construction, content, or social media maintenance, many small business owners make the mistake of trying to do it themselves. As I have said before—do not spend time learning something you do not want to do every day. If designing or writing high-end websites is your business—learn the ropes. Otherwise, do not spend every day trying to figure out how to keep your Facebook feed fresh—pay someone good to do it for you.
Talk to friends, get references, and find consultants or freelancers in the business of website design, social media, or blog maintenance. Use your resources, instead of taking your own time from the business tasks that only you can—or want—to do.
Effective marketing means more than a well-built and maintained website—but it is a good place to start.
When you are interested in making better money doing what you love—call me at 585-633-7563.
Yours in profit,
Bob Britton
Marketing is all about generating solid client leads and conversions. We're in this to build business, right? Sometimes marketing is also about knowing when to let a client go.
If you are a small business owner, you probably have—or have had—clients that just did not work out. For their reason, or yours, it was not a good relationship. My business is helping entrepreneurs craft a business that makes them real money.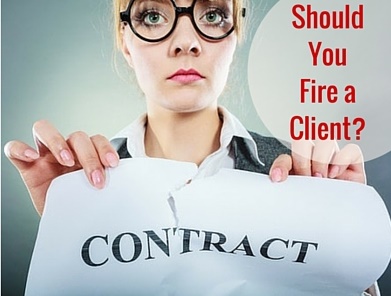 Good reasons to let a client go
Client issues are different depending on your position in the business lifecycle. If you are a start-up, stretching services, straining your finances, and delivering the impossible may be your idea of landing a client. Established entrepreneurs may have clients on board that are not returning profit, compared to time needed to maintain their account. How do you know when to cut a client loose?
I have been where you are. Struggling with several businesses, it took me a lot of effort until I hit on a business strategy that worked—no matter what business I took on.
Today, I help clients with strategies for value, pricing, marketing, and production to create strong—profit-producing—small business enterprises. An important part of running your business is learning to recognize the clients that support your bottom-line. Consider these tips for identifying problem issues with clients—or potential clients:
Not your expertise: Tempting though it is, avoid taking on clients who are asking for services outside your defined area of experience. If it is a field you are working into, or have an interest in exploring, by all means, take the challenge. But—small business owners anxious to succeed may take on projects or requests they are not set up to address, and end up at a financial loss for the time spent. When a client wants a product or service you do not provide, offer a referral or consider partner relationships with other small business owners who provide what your client needs.
The money is not there: I have said this before—do not get into pricing wars with other business owners. You cannot win if the game is to undercut the competition. Unless you have the edge on a high volume business, the best position for an entrepreneur is as a premium player. Clients who haggle over every bill, are late paying, or always looking for a deal, are not the kind of clients who support your long-term growth and financial success. If you are an established business owner reconsidering your price point, take the time to speak with legacy clients. Let them know you are repositioning your services and offering a greater value proposition. Show them how they will get better—and more—service, even as they pay a higher price. If established clients are unhappy, let them make the choice to move on, but do not make special pricing deals to maintain unprofitable accounts.
Bad business: Do your business on the sunny side of the street. Shady clients looking to make you a deal, or asking you to skirt a regulatory situation, are nothing but trouble. Turning down a sizeable account or a big payout may be tough—but it is worth it. In a wired world, reputation management is essential to your brand. Make sure you know what is being said about you—or about others you might be considering for a business relationship.
Just not worth the trouble: We all have them—clients who pay on time, but cause you to involuntarily flinch when you hear their name. They may be argumentative, take a lot of time, always ask for a special deal—just something that makes doing business with them difficult. If it is your bread and butter client—you are stuck for the time being. When that is the case, it is time to hit your marketing strategy hard, and start looking for clients that offer a better reciprocal relationship.
Is this you? A start-up business owner may ask you to take lower fees in exchange for stock options. Unless it was Google or Facebook—most times, these arrangements do not pan out. Or, you offer services involving consulting and guidance that your client never takes—often to their detriment. These examples point to a client that is just not a good fit.
Many small business owners recognize these clients, but fear turning them away, or letting them go, for financial reasons. Give yourself permission to choose the clients who really need your services, and who support your steady success—like you support theirs.
When you need to develop clients who appreciate what you have to offer—you need a marketing plan that delivers. Call me at 585-633-7563 to kick-start the right kind of client development for your company.
Yours in profit,
Bob Britton
Thinking about starting or relaunching your business? Both require serious consideration and a long-term plan.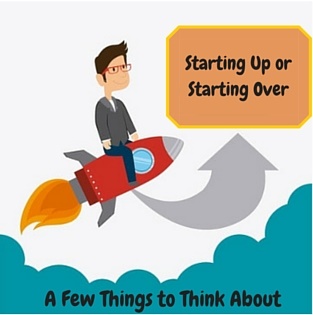 Every year small business owners start, relaunch, and sell businesses. There are a million reasons why. I work with entrepreneurs to start and grow their businesses with the aim of turning a profit. A big profit. When you make more money, you can offer the service you want—at the price that sustains your lifestyle choices and family.
Starting up—five things to know
When considering starting your own business, there is a lot of work to be done. There are resources that can help you with the basics, and you need to give careful thought to questions like:
Why do you want to start this business? Is it a mid-life moment, job—or even relationship—frustration, or is the time right for you to grab that idea and put your shingle out there?
What is your value proposition? Go no further. I work every day with clients who have been in business for years, treading water without a lot of profit, who have no value proposition. What is a value proposition? It is how you intend to stand out from the crowd—what makes you so different that clients and businesses want to work with you. Types of value propositions include:
Quality: You offer a product or service so much better that your business is the obvious choice
Custom: Your services or product are special, or one-of-a-kind that cannot be obtained anywhere else
Convenience and service: You make it so easy for people to get what they want that they have no reason to go elsewhere?
You are us: You market your product or service so well, that your clients feel you know them, and that you would move mountains to make sure they are served
These are just a few types of value that make you different from the also-rans. Your value proposition can make or break your business—make sure you know the reason people would want to spend their money on what you have to offer.
Who are your customers? Are you selling to a small, rarified niche of clients, or are you aiming for mass market? What are the benefits and downsides of both? What research have you done to prove you have a marketable product or service?
Who—and where—is my competition? Are you in this alone? Do you have a stand-out product no one knows about yet? Getting to market fast is important. Are there lots of others at your price point selling the same thing? How are you going to compete? Are you a storefront, Web, or both? What is your marketing plan for each or other channels?
Pricing: Along with marketing, competition, and value proposition—the price of your product is integral to your operation. Your pricing is affected by questions you might not know how to answer right now—how do you want to live, what kind of profit can you really make? What are the production, operation, marketing, and tax implications?
These are the types of questions I work over with entrepreneurs. Make sure you know these metrics inside and out before you invest your money, time, and a good chunk of your life in a new business.
Do you need to reboot?
Relaunch, pivot, and rebrand are all words used to discuss actions needed when you hit a wall—or a profit plateau—with your business.
Let's say you have a moderately successful business—or you are just getting by. The numbers still look decent, and you want to stay with the business you built—but you are not making enough money. A lot has changed since you started your business and you have no idea how to make the most of the financial, marketing and social media tools now available to you.
Consider these points when you need a fresh start:
A relaunch offers you a way to reintroduce your business, service, or product. Pivoting your business gives you a chance to offer a different value proposition, retool your service and operations, and introduce a new profit platform.
Get professional guidance when analyzing the marketplace for your relaunch. Revisit and refresh financial analyses to inform your decisions and help you make good choices.
Retain a marketing firm or consultant to refresh your website and handle social media, signage, and client or customer engagement campaigns.
Whether starting new—or starting over—think about the reasons to be in the business you are in. Ensure your own personal and financial interests are strong enough before making commitments to move your ideas forward.
When you need help with a start-up, or refining your business plan for a relaunch, call me at 585-633-7563.
Yours in profit,
Bob Britton
Whether your business is a start-up or long-established, you need the most from your traveling time.
Like you, I am an experienced traveler. F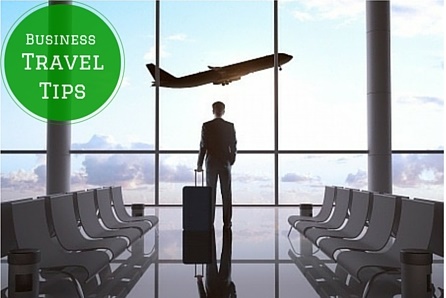 or business, and for our Marketing Automation Group Live Events, I travel routinely all over the United States. I enjoy travel, especially when I can build in value—wherever I am.
On the road: Tips for busy entrepreneurs
At the end of summer, and as the back-to-business vibe kicks in, it is worth revisiting whether you can get a little more time for you—or your business—on days you are traveling. Consider these ideas when you want to get where you are going, a little easier:
Expedited screening: When traveling by air, you spend a lot of time waiting. Reduce the delay by registering for programs like TSA PreCheck, Global Entry, and other fast-lane programs. Choose the service that suits your travel habits or geographical location.
Transportation Security Administration (TSA) PreCheck: TSA Pre gives you a faster way to move through security screening at most airports across the United States. With a shorter line through screening, you need not remove shoes, liquids, or laptops from your carry-on luggage. The cost of TSAPreCheck is $85 for three years. You can apply online.
Global Entry: At $100 for five years, Global Entry is more expensive than TSAPre, but there are more perks. As the name implies, the service applies to passport and customs entry points at the United States border, not just within the country. Once registered, and returning to the U.S., you need only present your passport or identification at a Global Entry kiosk, scan your fingertips to verify identity and complete the standard customs declaration. Global Entry includes other services like Nexus, and Sentri, which offer similar expedited service to travelers to Canada and Mexico.
No expedited screening service guarantees that you may not occasionally be asked to step out of line and move through the usual security process. That said, you can save real time by taking advantage of programs that move you through security lines faster. Otherwise, try to wear shoes without laces.
Loyalty or not: Frequent flyer and other rewards cards just ain't what they used to be. Because small business owners depend on affordable air travel, paying attention to these shifting, and sometimes shifty, programs is essential.
Delta Airlines recently changed the base of its popular SkyMiles reward system from miles traveled to dollars spent on airfare. Obviously, if you get a less expensive seat, correspondingly, your benefit goes down.
For any airline rewards, check the fine print. Because reward programs are changing, consider redeeming miles, and know the credit card cash-back benefits tied into airline points before applying. Remember that loyalty programs have nothing to do with loyalty. Manage frequent flyer miles with AwardWallet, TripIt, or other apps.
The devices: Make sure you charge all devices before you go, keep chargers with you, and carry small back-up charging devices. That said, the big risk for entrepreneurs traveling abroad is compatibility and security. If you travel often, you already know what your carrier provides. If you don't already know—it is time to find out.
Information security, when traveling, is paramount. Some clients I know take temporary or blank devices when they travel. Many companies issue travel devices that are secure and wiped clean of proprietary and sensitive information. When traveling, consider these tips for devices that carry highly-sensitive business and personal data:
When not in use, turn the device completely off.
Before departing, make sure your device has all patches and appropriate security software installed. Create a temporary, or travel only, email account.
Assume encrypted data can be captured, and do not expose sensitive information over free wifi networks. Do not use shared devices.
Reset passwords before traveling, and upon return.
Do not use your travel devices upon return until they are reformatted and software reinstalled to ensure ongoing security.
Consider taping over laptop or other device cameras, and disconnect microphones.
Disable any file sharing capabilities or network protocols before traveling
Be sure to back up data.
When abroad, register for security alerts.
Quality work time while traveling: When flying, pay attention to layovers. Sometimes less is not more. Airlines are boarding 45 minutes before flights now, making it a tighter squeeze if you face a one-hour layover. Layovers offer focused work time if you packed what you need, and prioritized the work you can do ahead of time.
Best for last—traveling can get you business: While you already have a business agenda, and a client to meet on your trip, consider business opportunities along the way. In coach, or business class, be friendly, engage seatmates, inquire about their business, and talk about yours—if they are interested. While waiting in line at restaurants, events, or conferences, any time is a good time to strike up a conversation with another business traveler. Endless stories are told of serendipitous meetings on planes, during delays, and in long lines that result in ongoing business, and even partnerships.
Most small business owners travel at one time or another. Plan ahead to make your trip as easy—and productive—as possible. The goal is enjoy the road, and achieve your business goals.
When at home, or while traveling, time means money. When you want to get more value for your time and more money in your pocket, I hope you will call me at 585-633-7563.
Yours in profit,
Bob Britton
Do you have a great idea? Do you think it will sell? How do you produce, market and manage your product or service? And how can technology help you? These are all basic questions that challenge every small business owner.
I got my start in small business with an auto repair shop. Plus, I have always been a computer geek. Along the way, I put the two together, and with a lot of hard work, I built businesses with revenue in the millions—by combining traditional business concepts and technology.
Small business owners and tech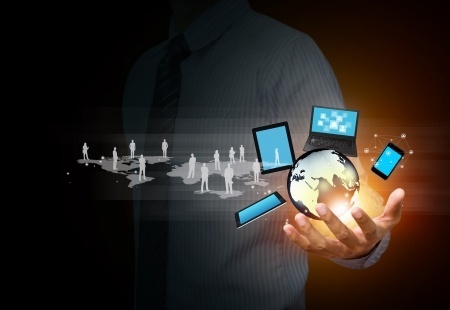 A lot of small business owners are dedicated to delivering old-fashioned value and service to their customers. I work with a diverse group of clients who come to me when they have tried everything to get ahead, and are either falling behind, or just not achieving the success they want. I know—I've been there.
For me, a turning point arrived when I began to deeply understand the customer lifecycle, not just the single sale. By adding technological solutions to my traditional understanding of business concepts, I achieved success. And now I work hard to offer that opportunity for financial success to each small business owner I work with.
Technology, when used correctly, can help you allocate your time better, offer greater value, save money—and make you money. I use appropriate tech to create personalized, high-touch marketing campaigns and back-office tools that build my brand and extend my reach.
Trends in marketing tech
For me, a high quality customer relationship is a key differentiator. I want my clients to know they matter, and that I value their business. A lot of the time, my go-to method for personalized, old-fashioned client care is technology.
In 2014, Salesforce, a cloud computing company, sponsored a Forrester report on one-to-one, or personalized marketing. The survey queried more than 150 marketing decision makers in a variety of businesses, including leisure, retail, healthcare, financial services, and others. Trends identified in the report include the following:
Consumers are more savvy than ever about services and information available to them through information technology. Personalization technology has not evolved as quickly as customer ability to use, and manipulate, their buying experience.
The capability to create an individualized view of customers impacts the ability to orchestrate a helpful or successful customer journey. This means maintaining continuity during the customer experience and creating multiple real-time touch points during which to make attractive offers.
Many companies are more focused on customer, or client, acquisition than they are on personalization. This more traditional thinking comes at the cost of the increased sales and conversions that can result from improved personalization techniques.
Big data overwhelms marketing decision makers, making it difficult to create effective, automated, personalized marketing campaigns.
Effective sales teams are more than three times more likely to use sales analytics than lower achieving sales units. Top teams are heavy adopters of high tech.
High achieving companies are 3.5 times more likely than lower performing companies to view sales as the responsibility of the entire organization.
Together, old fashioned customer service, and meaningfully deployed marketing automation are critical to the future success of small business entrepreneurs.
Trends in IT for entrepreneurs
In the back-office, there are IT trends that business owners cannot ignore. Consider these points about small businesses and technology from the Harvard Business Review:
Use appropriate spreadsheet, and financial, technology. Free resources on the internet may not provide the specialized solutions you need to track and drill into your business metrics. Conversely, enterprise architecture is not usually needed by small business owners.
Appropriately sourced cloud-based storage and SaaS can save entrepreneurs on multiple fronts.
One quoted expert notes, "SEO-optimized web sites, blogs, and social media are often the center of small business marketing programs. Combining them with a database or sales automation system to build brand and awareness makes small businesses much more open to the world."
The model of traditional business has changed, but not traditional values. Do you have an unbeatable offer? Do you have the right technology and workforce in place? How about your business plan? When you know you can succeed, but you do not know what to try next—call me, I can help. My business goal is to make you a millionaire. You can reach me at 585-633-7563.
Yours in profit.
Bob Britton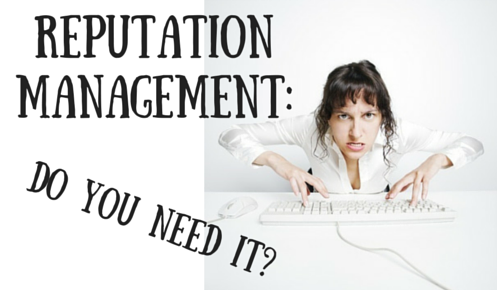 The mobile and contagious nature of negative customer comments makes reputation management a must for any small business owner.
Along with the opportunity to create and expand your brand, the Internet also offers dissatisfied customers plenty of opportunity if they decide to take their beef online. Search engine reputation management (SERM) and online reputation management (ORM) are two names for the same type of important service—consultants and businesses that keep tabs on your online reputation.
What is it all about?
The importance of reputation management for entrepreneurs
In a recent blog, I talked about the importance of going the extra mile with customer service—especially if your client is unhappy. A negative Internet comment or review can catch fire under the wrong circumstances.
While large companies take Internet hits with some frequency, a smaller, local business can really struggle in the face of negative online backlash.
Good Internet reviews, comments, and information are influential to customers, potential employees, business partners—even lending institutions. While some people believe that any publicity is good publicity, a negative reputation is hard to overcome on the Internet.
The annual 2014 BrightLocal survey of approximately 5,000 consumers made some interesting points about customer use of Internet reviews, including:
About 57 percent of respondents searched online for local business services more than six times per year. According to Google, more searches now take place on mobile, rather than desktop computers—meaning your clients are on the move, and looking for a business that serves their needs.
When looking for the right place to take their business, 88 percent said they read online reviews of local companies.
Online reviews frequently use a star rating system, for example, one to four stars. While 72 percent may use a company with a three-star rating, only 27 will continue to investigate a company rated with only two stars.
Many consumers do not begin reading reviews until they have found businesses that meet their needs, and they are trying to decide between competitors. Approximately 72 percent of respondents said online reviews help them evaluate a company enough to tip their decision toward—or against—a purchase.
About 88 percent of consumers trust online review and comments as well as they do a personnel recommendation from someone they know.
These statistics leave no question that positive online buzz is helpful—and that negative comments can damage sales, and your brand.
Damage control—what can you do?
The best way to deal with a negative online comment is not get a bad review in the first place. Train staff, provide exemplary customer service, and be ready to offer coupons, perks, and waive costs if a mistake happens. Preventing bad Internet press is far easier—and less expensive—than controlling the damage caused by an unhappy customer.
But let's say a customer is unhappy with a product, and does not get the satisfaction they want when they reach out to your company. They post a negative review on a social media channel. What do you do?
Be prepared: Be sure you are signed up for Google alerts and watch your social media to ensure you become aware of damaging comments when they are posted. Use tools like socialmention and IceRocket to monitor mention of you, or your brand, on the web or social media. In this case, what you do not know they are saying—will hurt you.
Think first: Before you respond to the customer, take a moment to reflect on the criticism without emotion. If a client has a legitimate complaint, it is valuable feedback about what you, or your staff, could improve. While it is nice to have feedback about what you are doing right—finding out what you are doing wrong can save you customers. A poor review is motivation to do the right thing for your customer—and address the bigger issue within your operations.
Act fast: Be proactive when you are alerted to a negative comment, or an unhappy customer. Do not wait a long time to respond, and do so directly with courtesy and generosity. Acknowledge the problem and tell the disgruntled client you are checking into it. If you need to explore facts, do so right away. If you can—come back with an offer that is responsive and meaningful.
Sometimes a fast response to a complaint earns you good will on the web. At other times, a complaint may not have any weight. Your best option is to make it right. The decision, and the investment needed to respond to the issue, is yours.
Reputation management—do you need it? You bet. If you have questions about online branding, your marketing reach, or problem solving customer complaints—call me at 585-633-7563.
Yours in profit.
Bob Britton
For a lot of reasons, going the extra mile for your customers is a good idea.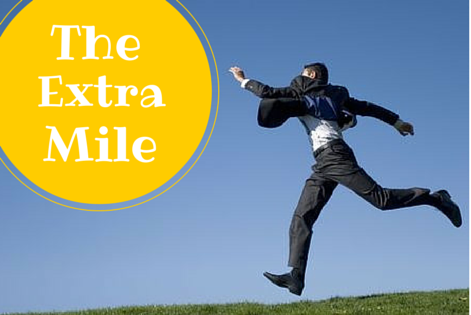 Many small business owners spend good time and money parsing analytics and pursing strategic marketing angles. All good ideas. But once your customer walks in the door, that point of contact makes all the difference.
The good, the bad, and the ugly
When I work with small business owners, we build a strong business plan, and plot smart marketing moves to deliver an unbeatable offer. Despite the best laid plans, though, when it comes to closing the deal, the point of sale can sometimes go very wrong.
I talked in an earlier blog about an experience I had with a marketing vendor. I had to delay initiating a campaign, but got back to them a week or so down the line to restart my account. Nothing could convince their service rep to open my account and move forward. When I delayed, they cancelled. Needless to say, my business—and good opinion—went elsewhere.
I am sure you, and people you know, have a hundred unbelievable stories about poor customer service. Like they say, a happy customer tells one person, an unhappy customer…posts it on the Internet and tells everyone.
So we all know what poor customer service is, and the real and intangible damage it does to your business and reputation. Now let's talk about the extra mile.
Customer service—your chance to add real value
Small business owners who attend our live events hear me talk about value all the time. When you provide premium service, you can charge premium prices. When you are charging more for your services—and providing higher value—you get the loyal clients you want and the higher income you need.
So let's talk about that extra mile and how you get there.
Everyone knows what the extra mile feels like. It is when a business, or a teacher—or someone on the street—takes a minute to make your life a little easier. Anonymous good will is a great thing. In a business setting, good will not only builds your brand and reputation, it makes you money.
Here are my top tips for providing more value through the extra mile:
Friendliness counts: On your sales floor, on the phone, at the counter—friendliness matters. A smile and patience mean everything—and a satisfied customer is a repeat customer.
Make sure your product meets the needs of your client: Sometimes just listening to your customer is what it takes to earn their good opinion. Instead of rushing to your options, listen to their problems. Understanding the needs and wants of a customer helps you form the offer you need to make. Some clients want a price cut, some need extra service, or timing is an issue. Going the extra mile to listen gives you a chance to make the unbeatable offer.
Customer tracking: Personal service and marketing automation make it easy to know your customer. It is rare when a customer is not impressed that you remembered their name, or a previous purchase. Tracking personal metrics and using the right technology gives you the opportunity to personalize your service beyond the sale of one product. Remember their business, their birthday, the project they talked about. Send a note, or an automatic gift, and create an easy, trusted business acquaintance who will remember you when they need your services again.
Employee attitude and training: As your front line, employees and your sales force are the face of your business. Be sure your staff is well-trained and engaged in the goals of your business. Consistency is a big reason customers return time and again.
Problems: A mistake or a problem can be a cloud with a silver lining. It is easy to be friendly and smile when everything is going right—it takes more skill when a mistake is made. When the going gets tough—make sure your staff goes beyond the call of duty to make it right. If the problem is handled well, the chances are good your customer will tell others about the great service.
The extraordinary ordinary: Most of the time life is not dramatic, and each day passes. When a client comes into your shop, or your office, make an ordinary business transaction extraordinary by remembering names, offering value—or offering to solve their problem in a way that will not bring you profit, at least not right now. Listen and find a way to meet those needs, and stretch your service to be what they need right now. Few customers fail to recognize what is, truly, the extra mile.
Everyone likes to read stories about businesses that do right by their customers. It starts at the top. As a small business owner, add value and build success by going the extra mile for your clients.
When you have questions about personalized client development and marketing automation, call me at 585-633-7563.
To your success.
Bob Britton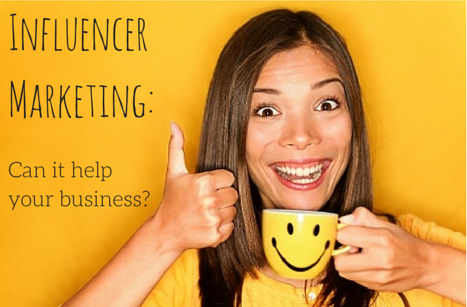 Do you need to get your message out there but lack the budget for a full-blown marketing campaign? Influencer marketing can help you stretch your budget, spread the word about your brand—and increase your success.
Influencer marketing uses a source, or information, to target potential customers already interested in a product or service. Although very similar to word of mouth marketing, influencer marketing is not the same. Both word of mouth and influencer marketing are peer-to-peer marketing methods, but influencer marketing relies on some form of knowledgeable authority—someone, or something, already viewed by potential leads as trustworthy.
What, or who, are influencers?
As the name implies, influencers are people, institutions, and resource bases with a lot of credibility. What they say, do—and even eat—may influence the people who follow their moves on social media.
The rise of social media created opportunity for well-networked individuals and companies to build followers—people who are interested in what influencers have to say. Influencer marketing, when it works, gives you access to followers who can get to know your brand, service, or other product through the eyes of their influencer. For small business owners, followers of influencers could become leads.
Celebrity endorsements were the original influencer marketing. Celebrities were paid to pitch a product on television and became associated with the brand. Brands built buzz through placing a famous face next to their rental car, coffee maker, financial service, or jeans. Paid to speak the message of their sponsor, celebrity endorsements are still used today.
Forms of influencer marketing include:
Individuals: Whether Girl with Curves, Tanesha Awasthi or Bill Gates, certain segments of the population want to know what's up with the people they admire, or believe are of a common mind. Whether interested in their opinion on current events, fashion, or food, individual influencers are generally articulate, well-networked, and dialed into the culture. Generally enjoying an easy relationship with their followers, individual influencers can have a big impact.
Institutions: When looking for education and information, many browsers point to reputable public institutions. For healthcare, the Mayo Clinic, and the U.S. National Institutes of Health, are go-to sources for many people. Understanding how pivotal institutions in your area of business serve your client base may help you serve your clients by association through content you generate.
Knowledge base: One of the easiest means for small business owners to use influence marketing is to create a knowledge base and reputation as an influencer. Potential customers seeking information on a product or service find your site faster when your educational content is rated highly by search engines. Offering education, or guest blogging, gives you the chance to build authority—and influence. Education can take the form of blogs, white papers, well-placed articles, and nurtured social media channels.
In one influence marketing campaign, you can utilize all three of these resources. You can cultivate a relationship with an influencer, build your own influence base—and link to influential institutions that maintain a body of authoritative knowledge.
Points to understand about influencer marketing
Influencer marketing is different, and trickier from the standpoint of message. You are not paying money for a static advertisement that you hope reaches your target audience. With some work, you are connecting with a person who has a previously established, trusted, relationship with thousands of potential leads.
As any small business owner knows, referrals from satisfied customers are the most effective, least expensive means of growing your client base. Consider these tips about influencer marketing:
Goals: As with any marketing campaign, know your goals. I have talked before about shiny object syndrome. While influencer marketing may be new to you, be sure you understand what it can—and cannot—do for you. Influencer marketing can do a lot of things—create buzz for your brand, drive traffic to your website, call attention to a promotion, generate awareness of your brand differentiators and more. Plan your objectives within the frame of our overall marketing strategy.
What kind of influence works for your goals? Are you looking for a popular celebrity to plug your product on Twitter? Within the context of your goals, think about who you want to influence. This might be a general audience to gain brand awareness, or a niche population who is deeply invested in the types of product s you produce. Do you want to cultivate a conversation about your product, make a big launch—or cultivate everyday users who function as brand ambassadors?
Building relationships and content: Now that you have your goals, and know what you want to say—how are you going to build a relationship with an influencer, and what content are you going to use? Working with an influencer takes time—and real reciprocity. Personal outreach works best, and takes time. It may be worth your own time to outsource your campaign through a consultant. An influencer is not a paid spokesperson—a mistake made in cultivating a promotional response from an influencer could backfire if the communication is not shaped with care.
These are some key ideas around using influencer marketing to build your brand—and your business profit. When you have questions about influencers, or your marketing message, call me at 585-633-7563.
To your success.
Bob Britton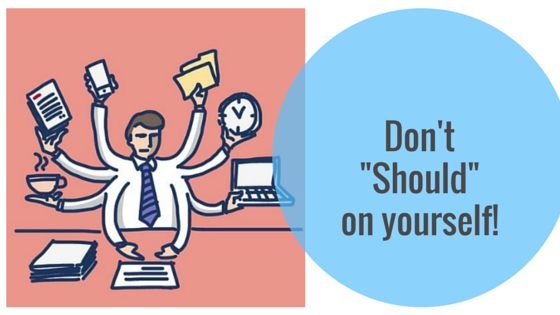 You are at your desk and it is stacked with things you should do. They're weighing you down—
and crushing your productivity. What can you do?
Don't should on yourself. When faced with tasks you do not have the time, or skill set, to pursue, give yourself a pass. Here's why.
As an entrepreneur, you are the captain of your ship. At the helm, you have overall responsibility for the business and your strategic plan. This means you are not at the oars, the galley, or rigging. When you lose your focus, your business goes off course—or possibly sinks like a stone.
If you cannot do everything, who can?
Delegation and the small business owner
Trying to handle business goals outside your expertise and interest is exhausting and time consuming. As we discussed earlier, entrepreneurs must undertake the responsibilities only they can handle—without feeling guilty about not doing everything else.
If it worries you to hand off some of your business function to others, consider the real benefits of diversifying your workload:
No need to be a jack of all trades: Part of your role as an entrepreneur is doing what you do best. You have ultimate responsibility for the quality and positioning of your brand, products and services. I have said it before, and I will say it again—do only what only you can do.
More heads are better than one: When you delegate, you work with people with the skills, or the time, to handle tasks you cannot, or should not, be doing. Working with specialists, consultants, advisors, or your own team opens problem-solving to others with experience and creativity.
Better base: Work with a team to stabilize your business and take advantage of individual strengths. As you grow your company, offload the pile of shoulds on your desk to people qualified and ready to handle them. Individual and business productivity increases as you—and members of your team—each manage core tasks.
Scalability: Market readiness means your business can respond when opportunity presents itself. Identifying if—and how—your business can respond to a profitable idea means exploring scalability. Developing capable, reliable external resources allows you to delegate needed services to take advantage of market circumstances.
What types of tasks can you delegate?
Consider these tips when you think about what you could delegate:
Business direction: Strategic planning, focus, and business direction are important responsibilities for small business owners. You can use consultants, mentors, and business groups to inform and shape your perspective. Critical business thinking is your job.
What is your passion? In theory, you started your business to do what you love, and make a living at it. Identify what tasks are part of your skill set and that you want to perform.
Essential services: Bookkeeping and payroll are among services that can be cost-effectively outsourced. Websites, blogs, and online marketing can be managed by social media specialists. Use marketing automation to build leads, increase customer loyalty, and save yourself time.
Delegation looks different for each company. I work with entrepreneurs to create business plans and technological solutions. To coach small business owners from making in the low six, up to seven figures, I provide focus and create solutions that save them time and money.
Some modes of delegation for a small business owner can include:
Advisor or mentor: Work with an outside expert, mentor, or coach to create strategy, and manage market and business bumps.
Consultant or contractor: Use a consultant or contractor for project management and coordination, to handle marketing, or to perform other tasks. Consultants offer high quality, scalable service.
Hire: Use temporary or permanent hires to fulfill identified needs.
Think about delegating tasks and services before you become overwhelmed, and your services suffer. Keep the following pitfalls in mind:
Putting it off: When you know you are overcommitted, get help and think about delegation. Do not procrastinate.
Avoid wrong choices: A trusted business group, mentor, or associate is a valuable source of business referrals. Due diligence is a must when you are looking for contractors to help with your business.
Stay away from micro-management: Whether you delegate to a trusted employee, or a reliable contractor, try not to micro-manage.
When you have a lot of things to do—and you know you are not going to do them—stop shoulding on yourself. Spend time thinking about your business, and move forward.
When you want to make more money doing the things you love to do, and you need focus—call me at 585-633-7563.
To your success.
Bob Britton