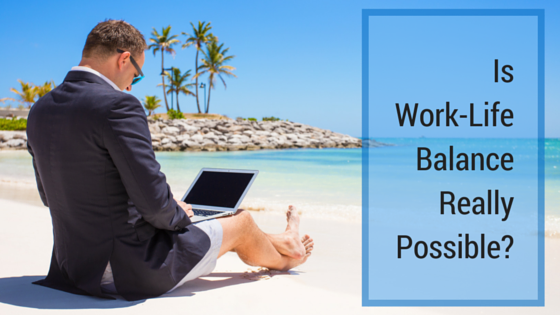 You became a small business owner to live your life and career your way. Now your business is your life. Can you be an entrepreneur and still have some kind of work-life balance?
The answer is, it depends.
My definition of an entrepreneur is a person who sets up a business or businesses, and takes on financial risks in the hope of profit. Pretty simple. But being an entrepreneur is also about having the life you want without sacrificing business success.
I work with small business owners. When we meet, many of these entrepreneurs are burned out from years of trying to profit in business and enjoy their lives—and succeeding at neither. It's not hard to see why.
The business hero model does not support work-life balance
Dedicated to business at all costs, the stereotype of the entrepreneur calls for total economic devotion. In a report in the Wall Street Journal, one small business executive states entrepreneurs cannot have a balanced life. "Successful entrepreneurs derive so much satisfaction from their business that their work is their life."
This may be the case—as long as it is a choice. Too many business owners—and employees—work long hours for compensation without enjoying the life that passed them by in the meantime.
The recent recession and slow-moving recovery shook up financial markets and world economies. A recent survey from Ernst and Young looked at work-life balance across the globe and discovered the following:
• Globally, almost half of workers who identify themselves as managers are working more than 40-hour weeks.
• Millennials (born between roughly 1980 and 1995) in the United States report having difficulty finding free time for a personal life and even getting enough sleep.
• The top five reasons people quit their jobs are poor wage growth, lack of promotion, too much overtime, lack of teamwork, and not enough work flexibility. The opportunity to build flexibility into a job—and still be considered a valuable, promotable employee—is a high priority in the current workplace.
Some employees, who quit their regular jobs, move on to become small business owners. Eventually they find the same poor wage growth, too much overtime, and lack of flexibility—even when they own the business.
While the sweat equity is all yours, you are the business hero who is still getting home too late to enjoy your children, your spouse, or your life. Work-life balance remains out of reach.
Integration is more important than balance
My passion is working with entrepreneurs like you to find ways to take charge of your business and create the income and flexibility you wanted all along. Consider these points about small business ownership:
• Work-life balance is not important for some: Some entrepreneurs live to work. There is no denying it. These folks are happiest in the middle of a business meeting with the assurance they have another work engagement at 7:00 PM. They are driven to work, whether they succeed or not.
• Work-life balance is important for others: These are entrepreneurs who work to live. Working exceptionally hard, these business owners endeavor to build an economic model, and a life, that fits their dreams.
• Integration vs balance: Integration means understanding the value of your time and how, and where, it is best spent. It means noticing the frustration of employees who deserve promotion to duties that would allow you to move forward with your own plans. And it means bringing flexibility back into the picture—for you, your business, and your workforce.
Is there a process for being successful—and wealthy?
My marketing automation group is composed of successful, wealthy entrepreneurs who were once struggling small business owners. Overwhelmed by longtime efforts to succeed, and suffering from personal burnout, many of these entrepreneurs just did not know where to turn.
In working with these and other business owners, I offer a unique experience that can be used by anyone to achieve the success—and the life—they want. That experience includes three steps:
• A roadmap: By discussing and delivering an action plan specific to your business, I help you see where you are, and where you want to be. Whether your issue is lead acquisition, employee management, outsourcing, automation, or fulfillment, you get the plan you need to achieve success—and work less.
• Personal interaction: Buying into products and ideas goes nowhere if you do not have the mentoring you need. Our work groups meet together for serious business and play during our three-day live events. Bring your specific problems to the table and hear the advice of business owners who were once where you are now. Get tips, techniques, and technical tools specific to your business needs—and enjoy supportive relationships with people interested in helping you.
• Guidance: My business is building your business. That means I offer ongoing guidance to help you remain focused on critical issues and objectives we identified in your action plan.
When you want to shift from struggle to success, I hope you will call me at 585-633-7563.
If you don't, just remember the three keys you need to make more money and work less hours. Those keys are an action plan, mentoring from people who have been there, and solid business guidance during the bad—and good times.
To your success.
Bob Britton