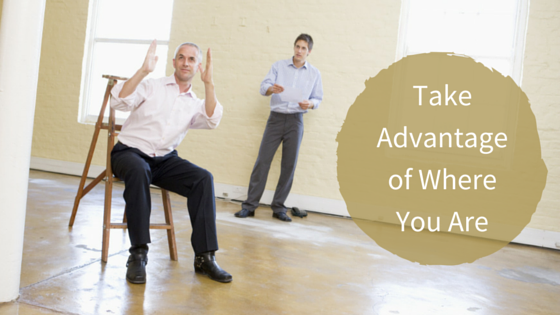 Recent headlines reveal an uptick in the economy for small business owners. If the economy is improving, isn't this the time to get smart about creating success for you and your business?
In May, the National Federation of Independent Business (NFIB) released its small business employment report. The survey reflects feedback from small business owners like you. Some key points of the report include:
Employment is up: Twenty-seven percent of small business owners who responded to the survey said they are having some difficulty filling job openings for qualified workers.
Economic indicators: NFIB evaluates on ten criteria, including credit conditions, job openings, and capital outlays. Upward trends are seen in nine of those ten indicators.
Business optimism: The Small Business Optimism Index rose 1.7 points, the highest since December of last year.
Does this mean the business climate is the best ever? No. But it does mean you have a fighting chance of making it the best business climate for you—and your company.
Why are you here?
My job is to help my clients develop a structured, creative mindset and business plan. It takes both to achieve success as a small business.
Success means something different to each business owner, but for me, it has to do with using your time to do what you love, and what you are good at. Success gives you a chance to offer value to clients, customers, and employees in a way that sustains your business—and your vision for your life.
Entrepreneurs have reasons for being where they are. Small business owners work hard to define what they have to offer, and what they hope to earn. Business owners usually get into their line of work for motives that include:
Taking charge: Most small business owners want to create and run an enterprise under their control. That enterprise looks different for each entrepreneur. Technically, a small business is a company employing 500 or fewer employees. Whether working as individuals, or in groups or teams, most business owners hope to create maximum financial success on their own terms. As Abraham Lincoln said, "The best way to predict your future is to create it."
Pursuing a passion: For many people, career choices are innate. During early, or mid-career, there comes a moment of realization when you know what you want to do, and how you might do it. The proclivity toward a particular field might be so strong that it is impossible to ignore. For others, years spent working in one area, then another, builds toward an obvious decision to create a small business.
Taking risks: Owning a business is generally not for the timid or those unable to handle change. Depending on your industry, the small business model gives entrepreneurs mobility that larger companies do not have. Taking a chance to succeed—or fail—helps small business owners learn and build confidence. When the now-defunct anonymous social app, Secret, was shuttered in April, co-founder David Byttow ironically noted, "I believe in failing fast in order to go on and make only new and different mistakes."
Choice: When your name is on the paychecks, you have more risk—and more choice. Do you want to keep your business small or grow it larger? Take advantage of new tech or different social media funnels? Retire in 20 years or five? Take that vacation you promised your family? Risk confers choice, and when you make good choices about building and maintaining your business, you get to live life the way you want.
How to get where you want to go in business
Everyone wants to make money doing what they love—but most people need help to get there.
Most people believe small business ownership means a long struggle to succeed. Part of that is true. Only about a third of small businesses launched in any year will survive for 10 years.
The economy is improving and you already own a small business—or maybe you are just starting out. How do you improve your odds?
The mandate of my company is to help yours. From the big picture to the small details, I help you understand the real meaning of value—of your time and your product. Instead of working harder, our group helps you work better in ways that include:
Investigate and revise your big picture
Relieve the frustration of being overworked and underpaid
Understand the worth of your own time and what else you can offer to customers
Understand the secrets of building a responsible, capable workforce
Learn technology and marketing methods to serve your goals
According to one survey, leading strategies for small business growth in 2015 include:
Improve and expand your client base through better customer service
Reach out to new customers
Bolster your bottom line by offering new products, or seek new markets
It's a great time to be an entrepreneur. When you want to thrive—not just survive—as a small business owner, call me at 585-633-7563.
To your success,
Bob Britton