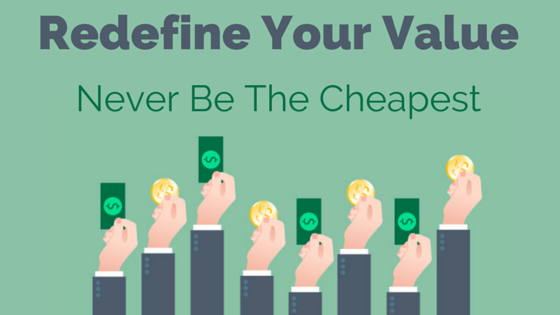 In the marketplace, there are three price spaces you can occupy—the cheapest, the middle ground, and the most expensive. Take it from me, never be the cheapest vendor in your marketplace.
Price is a dynamic factor in small business success. As I discussed in a recent blog, charging more—not less—is essential for business stability. Along with that is taking control of your position in the marketplace.
No formula for success: cheap, cheaper, or cheapest
Entrepreneurs who reactively position their business in the marketplace lose control of their message, their product, and their profit. Why? I'll tell you.
It is not just new entrepreneurs looking to break into the market who price their products and services too low. Small business owners hang on to inappropriate pricing structures for years. When fear drives your pricing behavior, the outcome looks like this:
Deep discounts
Price haggling or lowball bids
Unrealistic cost and expense accounting
Pricing that responds to external factors instead of internal decision points
Low wage and almost no profit
Inability to grow business or add value
For almost all small business owners, occupying the cheapest niche in the marketplace is a bad place to be. The only time this strategy works is when you can realistically obtain good profit by undercutting the competition. Typically, the success of this tactic is of short duration and not for owners interested in building out their business.
The view from the middle: no end of competition
Some small business owners seek the middle ground. When the bids come in, or a customer browses your product, your prices are not the cheapest—nor are they the highest. This is a sweet spot for many clients and consumers if the buzz about your products and services is good.
But is this where you really want to be? Consider the view from the middle:
Your pricing formula must remain fluid, depending on the season, the client, and the project.
Sales personnel must be ready to lower prices, or cut a deal, when a potentially valuable customer threatens to walk. Keep in mind—they may walk, anyway.
Frustration is the condition of the middle. You are constantly competing with everyone in that space—and most businesses are in that space.
Profit margins are thin because everyone is price cutting to get the business.
Like the cheapest vendor on the market, your prices must stay reactive, you do not see much profit, and you work very hard for whatever you get. It is not easy or guaranteed that you can grow your business from this position.
If you choose to be either the cheapest on the market, or the average business, there will always be someone willing to provide the service, or the product, for less—even if it eventually drives them out of business.
Middle ground entrepreneurs satisfy themselves thinking slow and steady wins the race. It doesn't. Slow and steady too often means undercapitalized, which is a prominent reason for small business failure.
My clients are small business owners interested in making more money. It is my job to evaluate what they are doing, and how they are doing it. My ambition is to make my clients millionaires. They do not do this by working harder—they do this by working smarter.
Top tier: how do you get there?
Small business owners who work in the trenches of cheap and cheapest do not have control of their businesses—or their future. Overwhelmed, undervalued, and underpaid, you may sign the checks, but your blood pressure and debt load is giving you a different message.
I am here to tell you that you are not alone and you can succeed. But you cannot have the business—and the life you want—without change. And that starts with realistically resetting your price points by defining your own value.
Let me tell you a story. When I was running my car repair business many years ago, we were charging 20 percent more than even the local car dealerships. That 20 percent let me do more for my customer than other repair shops. The result? I could offer advantages, like free loaner vehicles—a perk that worked—and increased my business and client loyalty.
The take-home point is that meaningful value sells. It is not just a mind game of charging more, of mark-up as make-up. It is offering real, calculable value where your customer needs it most. Trust me—charging more lets you offer more value.
Charging higher prices for valuable services results in business conditions that look something like this:
Growth and pricing goals are set and met
Sales and service personnel take on more responsibility
You get to focus on what you do best—and living the life you want
Sound good? That's because it is good—and there are small business owners just like you redefining their prices, their value—and their lives—every day.
When you are ready to take control of your business, bump your sales, and take a long lunch without guilt—call me at 585-633-7563. I will help you get there.
To your success,
Bob Britton